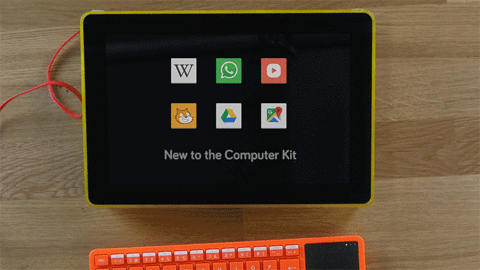 Make a real computer with the Kano Computer Kit, bundled with an awesome selection of Kano-made and 3rd party apps to play with, including many you already know and love.
From coding skills to homework help, writing stories to physics games, people just like you are using their computers to do wonderful things.
Homework, discovery, education and more - we've got an app for that.
When it comes time for projects and research, Kano is here to help. Wikipedia and YouTube are waiting for you, and Google Drive is ready to take notes, and keep your stories and creations safe. You can even use Google Maps to find adventure and explore the world.
The Computer Kits also includes a powerful a web browser called Chromium – even Google gives Chromium two thumbs up. For your peace of mind, the kit also comes with parental controls.
Coding, games, music, videos, playtime…. Yep. We've got an app for that too.
From the hugely popular Scratch to Code Academy and our very own Terminal Quest, every level of coding ability is welcome, from beginner to master and everything in between. Learn to code with quests in story mode, play coding games, complete step by step learn to code challenges or experiment on a blank canvas – discover which style suits you.
With over 50 engaging and useful apps available to download, your computer can do whatever you need it to. Feed a hungry penguin and learn to type with TuxType, keep your own secret diary with Lifeograph, play music, use Whatsapp, watch videos on VLC, open PDF's, paint…
It's everything you'd expect from a real computer, with the incredible experience of making it yourself, and apps that let you create with code built in.